"Well I'm here to claim the right of a husband!"
— Morrison before killing Lord Bottoms.
Morrison

Significant Battle(s):

Historical information

Real name:
 ? Morrison
Born:
c. 1268 (based on actor's age)
Died:
1298
Actor:
Tommy Flanagan
Morrison was a soldier in William Wallace's army.
Biography
Edit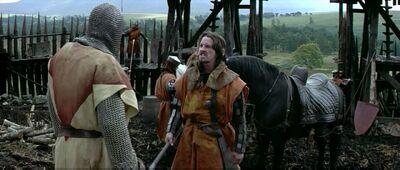 Morrison was a villager in Lanark who got married in 1296 to
a woman
and they had a huge festival to celebrate. Unfortunately,
Prima Noctae
was enforced, meaning that the noble lords had sexual rights over all wives on the first night of their marriage. This enraged Morrison, who tried to defend his bride and
her father
, but was nearly killed by English troops. But the wife peacefully went to the noble and mounted his horse, and Morrison became infuriated. When the Scottish under
William Wallace
rebelled, he joined their forces and when they attacked the castle held by Lord Bottoms, he beat him to death with a ball-and-chain, then spitting on his corpse. He later fought at Stirling and Falkirk, where he was killed. He struck down an English soldier, and when he was about to finish him off, he was hit in the chest by an arrow.
Ad blocker interference detected!
Wikia is a free-to-use site that makes money from advertising. We have a modified experience for viewers using ad blockers

Wikia is not accessible if you've made further modifications. Remove the custom ad blocker rule(s) and the page will load as expected.